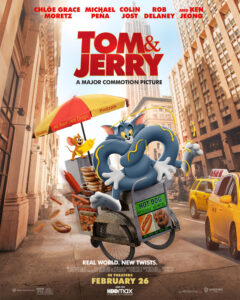 In this latest HBO Max theatrical home release, the loveable kitty cat Tom chases the scheming mouse Jerry around New York City in an odd mix of animation and live action.
The kiddos seemed to really like it. The jokes and sight gags were more their speed. For a kids movie, it was OK, but not anything I ever want to watch again.
My biggest gripe with it is how formulaic it was. The human character, Kayla, played by Chloe Grace Moretz, was struggling to find a job and just happened to fall into an events coordinator position at a ritzy hotel right before a huge wedding was supposed to take place. Yeah, sure.
Of course, Tom and Jerry screw everything up for her when they ruin the wedding. But in the end, all is happy and perfect anyway, because it's a feel-good family movie. Cringe.
Rating: