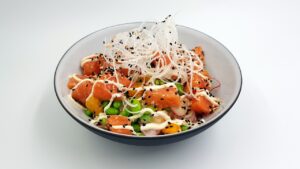 I have never really liked sushi for some reason. It's not that it tastes bad, but I just don't understand the ritualistic eating patterns or how to even figure out what is the best kind to eat.
A couple years ago, I tried a poke (pronounced po-KAY) bowl and it started to grow on me after a few times. What I really like is the variety of flavors you can have in it and how it makes you feel like you are eating healthy. I don't know if it is actually healthy, but I feel better about myself when I'm eating it.
The way I usually like mine is with a bed of white sushi rice, then 1 scoop each of salmon and tuna with one of them being the spicy kind. Then come the toppings: shredded carrots, sliced cucumbers, edamame, mango, watermelon radishes, roasted corn, crispy onions, sesame seeds, and furikake (dried seaweed). Finally, it's topped off with sauces, which can be ponzu sauce, orange/ginger, soy sauce, spicy chili sauces, etc.
When you get it, you mix it up and it's a delicious flavor explosion in your mouth. Did I mention it is healthy, too?